Mark H. Wilson is a highly-accomplished triathlete and coach with more than 25 years of experience. As an athlete, Mark has achieved success as an Ironman 70.3 World Championship Finisher and was a eight-time finisher in the Ironman USA Lake Placid with a P.R. of 10:59:40. Other career highlights include: nine-time finisher in the S.O.S (Survival of the Shawangunks), Escape from Alcatraz Qualifier – Westchester Triathlon and he has also been a nine-time USAT All-American.
Being a competitive runner since the age of 12, Mark was excited about the prospect of being as fit as the triathletes he had seen in national magazines. "They seemed like the fittest people on the planet." Having already completed several marathons, it seemed feasible to Mark to jump right into the half-distance triathlon; it went very well and lead to a lifelong interest and profession in the sport.
As a professional coach, Mark has performed countless triathlon training camps all over the United States as a USAT Level I and II Certified Coach. Mark has also individually trained thousands of athletes. His coaching honors run the gamut and include:
Ironman Triathlon World Championship
Ironman 70.3 World Championship
ITU Olympic Triathlon World Championship
ITU Sprint Triathlon World Championship
Lifetime Fitness National Championship
USAT Age-Group All-Americans
ITU World Championship Qualifier – Athena Champion
USAT Ironman National Championship – Athena Champion
Hudson Valley Magazine 2008 Triathlon Coach of the Year
Mark is the founder of two triathlon clubs; Hudson Valley Triathlon Club (HVTC) and Southern Tier Triathlon Club (STTC) in the Hudson Valley and Western NY, respectively; both host a mid-week Summer Tri-Series June-September which are sanctioned by USA Triathlon. These grass-roots events are fun for beginners and speed sharpeners for seasoned triathletes, alike.
As an 9x All-American athlete, nationally renowned coach and race director for the past 25+ years, Mark knows what athletes are looking for in a race experience. With the creation of Wilson Endurance Sports, LLC, Mark along with wife and partner Tonia, is producing 20 events in New York State and 1 in Connecticut.
"I don't work with elite athletes, I create them!" – Coach Mark Wilson
YouTube video of Coach Mark interview
---
Coach Chad Duffy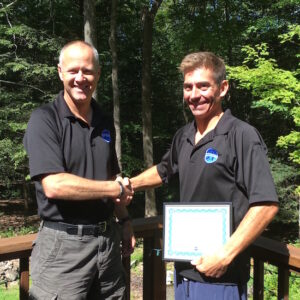 In 2002, I had just become a father and quit smoking. My wife bought a running stroller and we started jogging a couple days a week as family. I, of course, got to push the stroller. I loved the way I felt when we were done running and my daughter loved going for a ride in the stroller. As the next couple of years past, I started an Electric and HVAC business, bought 2 rental properties and was working 2nd shift as a electrician. I barely had time to sleep. Oh yeah, and had a 2nd daughter in 2004.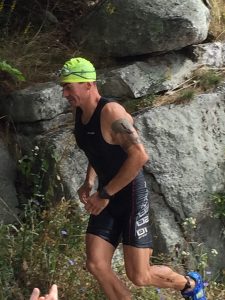 As you can expect, I got away from running and family time. I also gained 40 pounds and was always tired. I was very stressed and needed a change to my life style, so I quit my 2nd shift job and started to sell off some of my rental properties. But this still wasn't enough, I was still stressed and overweight and I decided to set a New Year's Goal in 2008… to do a triathlon that summer. I had to get to work since I did not know how to swim. I found an adult swim class at the local YMCA and learned how to swim. While at the Y I met an athlete, who recommend a triathlon to do. As the weather started getting a little nicer, I began riding and running a little.
The day of my first sprint Tri arrived quickly in June. The gun sounded… I jumped into the water and started to swim as hard as I could… I started to get a little winded and second guessing myself out in the deep lake so I looked up to see how everyone else was doing and I realized I swam the wrong way. So, needed to get back with the pack and slowed my breathing and tried to relax and enjoy the moment. I completed the swimming and biking, then the run. It was hard, I was not in good enough shape yet and needed to stop for a breather here and there. I found the finish line and what a great feeling to finish. I was hooked! What a cool thing 3 sports in 1. It was a huge challenge, but I knew I could do better and could not wait for the next one to see if I could improve.
So now, years later, I have taken on countless training classes to improve my swimming, biking and running. I have worked with 4 different coaches, and also trained and raced with some of the grittiest and talented athletes around to try to hone my craft. I have now completed 2 full distance triathlons, 12 halves, several international distances and 100's of sprints.
Now, I am in the best shape of my life and still love the sport as much as the day I completed my 1st one. The past 9 years have the best of my life. I love being active, setting goals and working to accomplish them. My big goal in triathlon was to do a half in 5 hrs. It took me years of training and racing to figure out how to complete a half in 4:45.
The fact that triathlon does not come easy to me has made me work hard at it. I realized I CAN do this, while my wife and I are working and with 2 daughters doing travel sports proves that it can be done even if you are busy. Being active helps keep me in shape, feeling good and healthy.
Ironman  PR 12:04
Half Ironman PR 4:45
USAT All American
USAT  Level 1 Coach
Coach Mark Wilson Certified Coach
Coaching Philosophy:   I want to be there for my clients, to help them achieve their goals no matter what they are. Run their first 5k, lose weight, get faster or go farther swimming, biking, and running.
---
Coach Troy Weaver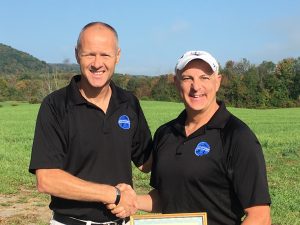 Troy Weaver is an accomplished triathlete and coach with more than 25 years of experience. As an athlete, Troy has achieved success as a Sprint Distance World Championship Finisher and is a seven-time finisher in the 140.6 distance in Florida. Other career highlights include 2003 Greater Atlantic Multisport Series Winner and 2012 HITS Sprint Triathlete of the Year. He is a member of the USAT Century Club having completed over 155 multi-sport events in 19 states.
Being a competitive athlete since the age of 7 in the sports of football & baseball,  he realized at an early age the importance of a healty lifestye. Troy took up weight training and swimming after a back injury ended his chances of playing football in college. In 1986, while completing his dual major in Recreation/Fitness Management and Health & PE,  Troy had the opportunity to spend a year in Australia, where his main mode of transport was a bike thus starting his passion for cycling.  But it's what happened in summer of 1995 that set wheels in motion. He participated in the Colonial Beach Triathlon  and was hooked from the exit of the swim. Shortly after that event he was told there was no way he could ever complete the 4.4 mile Chesapeake Bay Swim, because he was "not a swimmer". Well, it was game on from there! Not only did he do it but he did it twice. He brings that same dedication and passion to the athletes he coaches.
As an executive & trainer for the YMCA for over  24 years Troy has logged countless hours training adults in Membership Engagement, Principals of Health and Fitness, Strength & Conditioning, Lifeguard and Lifeguard Instructor. He is also certified in CPR, First Aid AED & Oxygen administration.
Troy has inspired numerous athletes to pursue completing their first triathlon and several on to complete the infamous 140.6. His contagious positive energy and passion for life has made him an asset to the sport.
Education
BS in Health & Physical Education
BS in Fitness Management
USAT Certified Level l Coach
Center for Creative Leadership – Certificate of Completion
YCM Leadership Journey – Certificate of Completion
YUSA Certified Strength & Conditioning Instructor
YUSA Certified Strength & Conditioning Instructor Trainer
YUSA Personal Fitness Program Director
YUSA  Fitness Specialist
Coach Mark Wilson Coaches Camp
Race Experience / Honors
Sprint World Championship Finisher, Beijing, China 2012
7-time finisher 140.6, Florida
4-time qualifier USAT Age group Nationals
2-time Chesapeake Bay Swim Finisher
2012 HITS Sprint Triathlete of the Year
2003 Greater Atlantic Multisport Series Winner
Member USAT Century Club (completed over 155 multisport events)
Coaching / Team Building
Facilitated team building initiative activities for US Postal Inspectors
Facilitated team building initiative activities for Management Team of The Y of Central MD
Facilitated team building initiative activities for Lake Shore Lightning U14 girls softball team
Race Director of the Carrabba's 5K from 2000 to 2005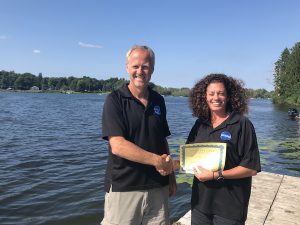 I am a mother of 2, a high school math teacher and self proclaimed "mover".  As a child and teenager I participated in dance and sports. In college I joined the Ranger Challenge team for a year at Norwich University. Fast forward to marriage and kids, I lost it all and was getting antsy.
In 2012, when my son was 6 and daughter 2, I started running to lose the baby weight. Life was busy and stressful, being active made it manageable. I ran a 5k, 10k, and half marathon all within a few months. I was falling in love with running and wanted to get faster and go further. Many more races and a few marathons later, I decided to try a triathlon. I went into my first sprint distance triathlon nervous and excited. Without a wetsuit and on a hybrid bike I finished the race and was hooked. I wanted and needed more races! I talked to experienced people, did the research for bigger and longer races. I found Coach Mark Wilson through a coworker and asked him to train me for my first half ironman with the dream of doing Ironman Lake Placid in 2019. I worked with Mark for just about 3 years, January 2016-August 2019. In those years I gained an incredible amount of knowledge and experience. I did many races in those years, from sprint triathlons to "adventure" type races and trail runs. A few months prior to Lake Placid my husband and I separated. I almost gave up my goal and dream to keep my marriage together. I gathered the strength I had from training for two years that I needed to reach my goal and dream of becoming an Ironman and moved on with my life and the race! Obviously, other than the birth of my 2 children, Lake Placid was the most amazing day of my life.
I have an incredible new life, always an adventure. I have added strength training, mountain biking, kayaking, snowboarding and whatever else I can find to my adventures. I love motivating and working with others to achieve their goals and dreams. I am excited to help others enjoy new adventures.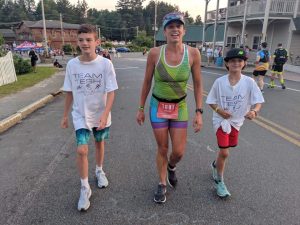 ---
Coach Mindy Crabtree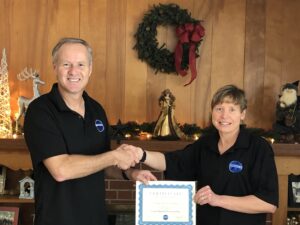 My Triathlon Story
Strength Through Adversity….
I am a 47-year-old mother, wife, and physical therapist. I am venturing into the world of triathlon coaching with a passion and eagerness to share and guide others in this sport. I love to tackle goals and see others succeed not only in athletics, but in the amazing personal growth that happens through this sport.
My life journey led me to triathlon later in life. I began running at age 13 as an effort to lose weight and gain self-esteem. At that time, 400 meters was a feat to run. But once I started, I never gave up. In my high school years I competed in track and cross country, making it to the National Junior Olympics twice for the 3000 meters. I then competed in collegiate cross country and indoor/outdoor track at Lock Haven University, for four years, with an ongoing love for running.
Upon graduating with my Master's in Physical Therapy from Gannon University, I began to run marathons along with 5ks, 10ks, and half marathons. I qualified for and ran the Boston Marathon in 2008 – my biggest marathon accomplishment. With running came injury for me, leading me to reevaluate my love for and possible longevity in running marathons as I desired to do. After taking extended time off from running due to injury, and being broken emotionally, my never-ending desire to train and push through to attain physical and athletic goals led me to the sport of triathlon. With a total of six months off from running my amazing husband urged me to try something new. He had me purchase a road bike, and I began to teach myself to swim. I fell in love with these new sports, although swimming was a big challenge. I taught myself how to swim at age 38. I biked, swam, and healed thus allowing me to run once again. With the ability to do all three sports I completed my first Sprint Triathlon. I went for it and never looked back.
From age 38 on, I have dived head first into multisport and have since spent nine years learning, growing, and falling in love with training and competing in triathlons. Each year, I have gotten stronger and never stopped learning. So far, I have completed numerous Sprint Triathlons, earning STTC Female Overall Series Winner each year. I have also completed several Olympic Distance triathlons including USA Triathlon's Nationals, qualified for Worlds (which will take place in 2021 due to COVID), completed four Half Ironmans, qualified for World's 70.3 (also to happen in 2021 because of COVID) and one full Ironman with a time of 12:34, with plans to do more.
I am a goal driven, energetic athlete who loves triathlons. I have lots to share as a coach through my journey and strive to learn and grow as much as I can with athletes that I will coach. I choose to serve and help others in my career as a physical therapist and now am looking to include coaching in my life as I feel I am meant to do. Let me help you reach your goals! We got this!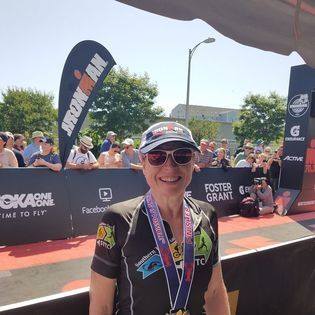 ____________________________________________________________________________________________
Coach Michelle Gillian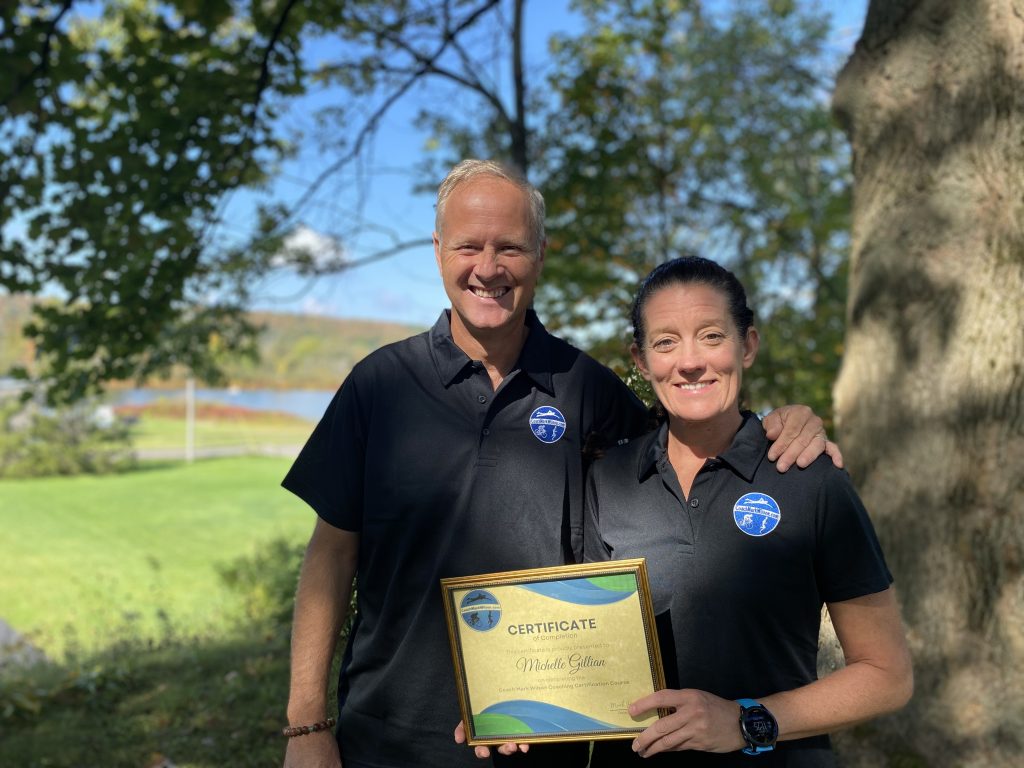 *Contact info coming soon (10/24/2023)
As a dedicated triathlon coach with a passion for helping athletes reach their peak performance, I am committed to guiding you on your journey to success in the world of endurance sports. I specialize in helping athletes build physical strength through individualized workouts with focusing on a balance of nutrition to keep a healthy weight for strength, training, and racing that will lead to building your self-confidence and give you a sense of purpose through accomplishing your goals.
I have been a competitive swimmer and runner since I was a teenager. I dove into distance cycling 16 years ago, starting out mountain biking and eventually finding my biggest strength in road biking. I found my love of triathlon at the age of 40 when I wanted to add some cross-training into my routine for more rounded workouts by strengthening other muscle groups to support my body for running and endurance sports into my later years.
I am an accomplished runner, having run countless races on both roads and trails with multiple distances up to 50-mile ultra races. I have competed in three 140.6s, ten 70.3s, and many Olympic and sprint distances triathlons having placed in the top three overall in some and placed in my age group in most races.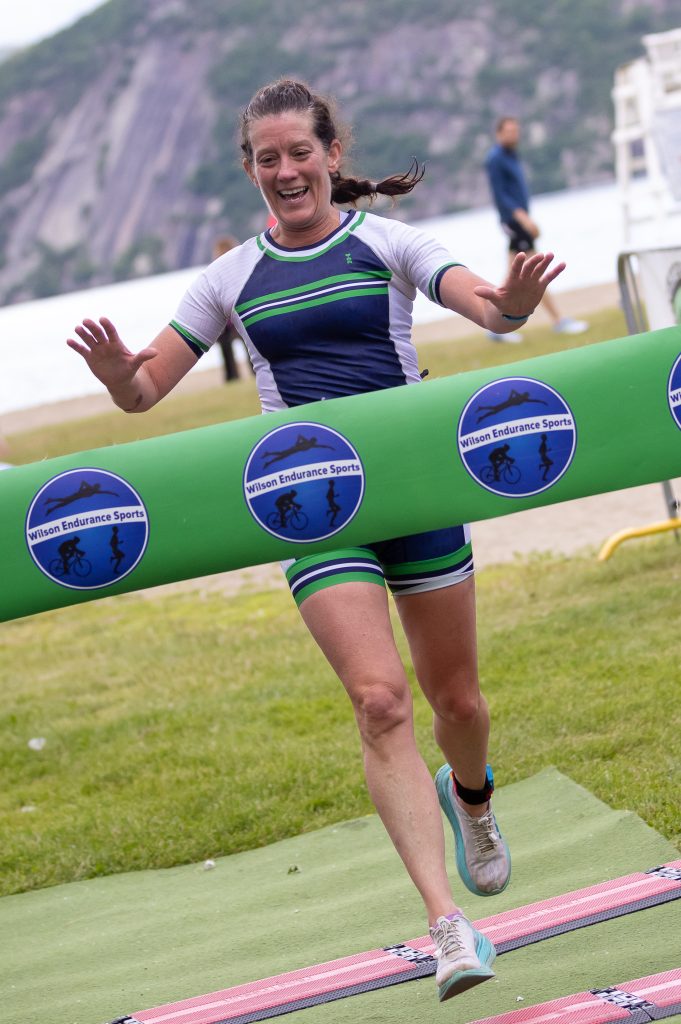 During my time training and racing, I have learned the importance of having a Coach to help me reach higher goals with injury-free, no added stress, workout plans that work with my busy schedule. It keeps me on track with workouts by giving me a training schedule that is individually built around my needs. Having personal one-to-one interaction with a coach can have many benefits such as having a training plan made specifically for how I am feeling each week, advice on transitions, nutrition, and anything that helps keep me on track and feeling good with my training. Also, I feel it is important to have access to videos with helpful tips and supportive strength training exercises to further enhance and strengthen your muscles. With a training plan built specifically for the goals that you want to accomplish, as your coach, I can help successfully guide you to your peak performance.
Interested in becoming a team member with Coach Mark? Check out the information regarding our Coaches Camp or use the Contact Us box to reach out to Coach Mark for more details!