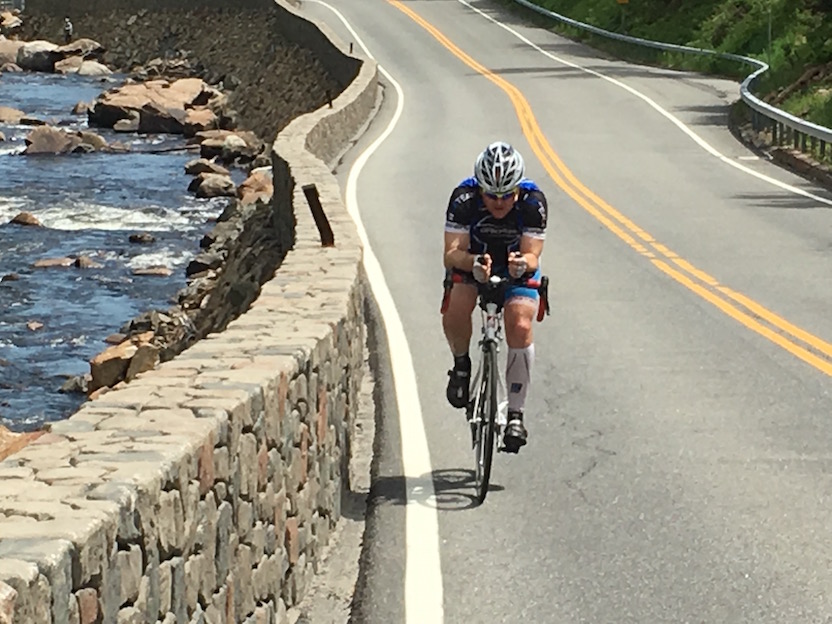 One of the most popular work outs to do in multi-sport is the "brick".  This is in reference to doing two sports back to back, swim-bike, swim-run, and the most popular, bike-run.  Whether you are preparing for a sprint, olympic, half or ironman, the brick is an important component that offers insight on one's fitness, endurance, and mental fortitude.  Most sprint triathlons can last up to an hour and thirty minutes, olympic distance up to 3-4 hours, half 6-8 hours and the full 12-16 hours.   The purpose of the bike-run brick at any distance is to prepare your body to move either distance or time equalling what you are anticipating your experience to be.  So, doing a four hour bike ride followed by a two hour run is an example of someone attempting to break 6 hours at a half Ironman.  You might wonder, "why do I have to go that long prior to the race".  There are three reasons: improve fitness, test nutrition, test race apparel. If you have never worked out for 6 hours you don't want race day to be the first time that you have gone 6 hours.  You want to eliminate as many surprises as possible before race day.   You don't know what it's like to move your body for that kind of time frame or what you are going to feel like or what you are going to think about.  And, then there is the dreaded flat or other mechanical mishaps.  You need to train your mind to handle this as much as you do your body.  Just because you can rip off a 1:06 sprint with your local club doesn't mean that you are prepared physically and mentally for the rigors of a half or full. 
The second part, nutrition, is critical to the success of your race.  A machine without fuel doesn't work.  So, sugar, water and salt taken in steady doses frequently will keep you performing at a level you'd expect from yourself. However, you have to test this in real life by going longer.  Again, equalling the total time you'd expect to finish. Also, types of nutrition that your body wants can change with several factors (weather, terrain, duration and of course intensity).  Nutrition has to be tested at least 3 or 4 times during these longer bricks in order to get dialed in and yet there is no guarantee that what you have practiced will actually work on race day; but at least you will have gained some experience using certain products in advance. So, gaining as much direct experience with nutritional options is super important to see how your body responds. 
Number three, apparel is the final part in perfecting your day.  Incredibly, every year I see people buying race apparel the night before their event because it has nice colors, text or brand name on it and it literally can ruin your day.  It's more beneficial for you to wear that worn out equipment and race suit that you have been wearing for months than it is to wear the brand new Tri suit that you see on the rack after receiving your packet at the expo. Please stick with what you've been using and save that shiny new suit for the next race.
The long brick is your friend. It will teach you stuff that your coach can never teach you about yourself.  You will learn how to deal with adversity.  Stay calm and overcome it; so, you will be ready to deal with it on race day in the heat of the moment.  Best of success.