---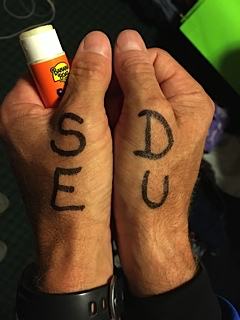 This was my mantra for my 10th Ironman® in my 50th year. An Ironman® that I finished one minute faster than I did my 1st, 19 years ago at the inaugural Ironman Lake Placid!
With the experience of the previous 9 races (and countless halfs and sprints), I really have learned about my body and what it takes to train well and perform at a level that I am excited about as I turn 50 years old. Having studied the POSE method of triathlon with Dr. Nicholas Romanov for many years I finally understand body movement and how gravity is the primary force for forward movement instead of muscular effort. I focused on the "unweighting" of my body during each leg of the race. I understand it, I can perceive it, but I really needed to put it in to practice with every arm stroke, every pedal stroke and every time I removed my foot from the planet…each step of the 26.2 miles! And, it was truly amazing!
One of the biggest mistakes many of us make is crushing it on the bike. Because we have trained that way. Because we can! So, I had to tell myself (as well as instruct my support team to scream that at me each time they saw me on the bike) to SLOW DOWN. In training, I instruct my athletes to push the pace on the bike, to see just how much they can endure and for how long. Then they know what it feels like, and they had better not do that on race day. There is a long run coming up and they need to save themselves for it. So, I just slowed down. I made sure I could breathe and that I could sit up and look around. I ate, a lot! And, I stayed hydrated. That allowed for me to be in my best form starting out on that marathon.
I truly believe that with the right training and the knowledge and experience that I have gained over my 20+ years in the sport that I can help you be as ready as you could possibly be for any distance race. I am here to help, so ask away.
---